North America
In North America, we recycled 45.2% of aluminum cans in 2020. While higher than the recycling rates of other types of packaging, there is significant room for growth and opportunity to increase real recycling rates even further. At Ball Corporation, we work every day to increase not just collection, but real recycling of aluminum cans.
A recent report from the Environmental Protection Agency confirmed that only 25% of waste in the United States is actually being recycled, and most of that is downcycled into lower value products, which ultimately end up in landfills … or worse. That's not real recycling. As the world confronts an overwhelming packaging waste crisis, it's worth asking, Why aren't we recycling more?
To us, real recycling means:
Creating products that are designed to be recycled
Supporting transparent measurement of the true environmental impact of products when taking into account recycling rates and circularity
Supporting federal and state policies to increase recycling beyond mere collection
Investing in green infrastructure to support a more circular system
Educating consumers on the importance of real recycling and the circular economy
RECYCLING SUPPORT
At Ball Corporation, we work closely with several leading recycling organizations at both the national and local level in partnership to increase real recycling.
The Recycling Partnership's mission is to educate, inspire and empower stakeholders to strategically strengthen recycling in the U.S. Its broad spectrum of allied partners focus on driving quantity in the recycled materials stream. Ball continues to contribute to the Recycling Partnership, which in 2020 the Recycling Partnership supported 537 communities' curbside collection systems, reached 18.3 million households and helped place 250,000 recycling carts.

The Southeast Recycling Development Council (SERDC) works to unite industry, government, and non-government organizations to promote sustainable recycling in 11 states in the southeastern U.S., including Arkansas, Florida, Georgia, North Carolina, Tennessee and Virginia, where Ball operates manufacturing plants.

Recycle Colorado is a nonprofit organization that actively works to promote and encourage recycling through educational programs for Colorado residents, local governments, businesses and elected officials.

Ball is a member of STAR, the State of Texas Alliance for Recycling. STAR builds and supports end markets by coordinating stakeholders to find common ground through information sharing and partnerships that get recyclable materials to market. Through data-driven advocacy, STAR is shaping and defining the future of materials management in Texas.
In addition to our partnership work, Ball Corporation also supports local recycling efforts in the communities in which we operate including:
Several Ball facilities sponsor a recycling scholarship contest, which offers five $3,000 scholarships to high school seniors who collect the most cans in a six-month period.

Ball also supports the University of Colorado and some of its sustainability programs, including the "Green on the Screen" contest. During this digital media contest, a partnership between Ball and the University of Colorado Environmental Center, students use their creative skills and digital technology to promote sustainability on campus. The focus of the contest is to promote aluminum recycling and raise awareness on how it ties into the school's zero waste goal of 90% landfill diversion by 2020.
South America
Ball is the largest manufacturer of aluminum beverage cans in Brazil. According to ABAL, the Brazilian Aluminum Association, and ABRALATAS, the Brazilian Association of Can Manufacturers, the 2021 Brazilian beverage can recycling rate was 98.7%.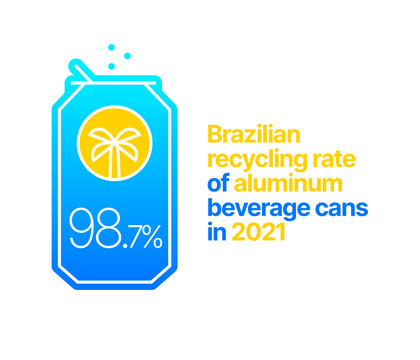 TIME TO RECYCLE
While it is almost impossible to increase Brazil's can recycling rate further, Ball is committed to support programs that will contribute to maintaining high recycling rates and position the beverage can as the most economically, environmentally and socially sustainable package in the beverage supply chain. Examples include:
In a further effort to encourage recycling habits and promote circularity, Ball announced plans to create Brazil's first circular economy lab on the island of Fernando de Noronha, one of the country's most popular tourist destinations and a leader in sustainable tourism. The lab will promote Real Circularity on the island by centralizing the collection and recycling of aluminum cans at a new, state-of-the-art facility.
During 2019, all of our 12 plants in South America either donated cans collected from their Recycling Can Challenge activities to waste pickers or voluntary organizations in the community, or promoted recycling in their communities through education programs in schools and on-site tours for students.
In Brazil, our Brasilia plant, held recycling workshops for around 700 schoolchildren, while employees at our Santa Cruz plant invited members of a cooperative of waste pickers to learn about the aluminum can production process.
In 2019 the Santa Cruz, Brazil, plant invited members of a cooperative of waste pickers to learn about the aluminum can production process.
Educating consumers, especially children and youth, about the environmental advantages of beverage can recycling through various programs such as "It's Time to Recycle". In partnership with Brazilian nongovernmental organization ONG Evoluir, Ball developed and launched an environmental education campaign called "It's Time to Recycle", with the goal to engage teachers and educate children about the importance of recycling. During the first year of the program, 84 teachers brought the program's content to their schools. In 2017, Ball held three classes and we educated and supported more than 180 teachers and impacted 1,500 children.
The Mundaréu festival gathers varied playful and educational activities with the aim to raise and demonstrate how people can better connect with themselves, others and the environment. In 2017, Ball conducted four events from the North to the South of Brazil, reaching more than 8,000 students from 80 different schools.
Ball also sponsors the "Sustainable Turn Around" movement that gathers companies, nongovernmental organizations, public institutions, universities and other stakeholders to create positive initiatives that promote sustainability and its diverse facets. It was created in the São Paulo state and has gained editions throughout the years in many other cities in Brazil.
In 2017, Ball organized two Re-Circus events. Re-Circus focuses on promoting environmental awareness and sustainability through socio-cultural activities. The first event was held in Recife and the second was held in Salvador, reaching 7,200 people. During the event, Ball also supported the "Pimp my Cart"-initiative, refurbishing 85 waste pickers' carts and providing them with personal protective equipment kits to improve health and safety conditions.
EMEA
The average recycling rate for aluminum beverage cans was 75.8% (2019).
Ball manages or supports several projects and organizations that will contribute to this ambitious goal:
Every Can Counts (ECC) is working to encourage people to recycle beverage cans they use when they are away from home—for example, at work and other "on the go" locations. ECC campaigns associate fun activities with can recycling to interact with consumers, festivals goers and the ones who enjoy life in public spaces and want to make that extra sorting effort to save energy and valuable materials. Originally developed in the U.K. to target the approximately 30% of drinks cans used outside the home, ECC has successfully established itself as the umbrella brand for promoting beverage can recycling away from home, with programs running in 19 countries across Europe and in Brazil. Exemplary success stories include:


The inaugural European Recycling Tour was executed by Every Can Counts in 15 European countries and at 19 different landmarks in parallel and reached more than 4 million people during 2021, highlighting the value of beverage can recycling and inspiring people to put their cans in the right bin while 'on the go'.
In the UK in 2019, ECC had a presence at more than 30 music festivals and sporting occasions attended by more than one million people, allowing representatives to talk directly to approximately 10,000 people about recycling.
In Montenegro, ECC has been working on promotion and educational initiatives with Ozone, a local non-governmental organization, and in Austria a virtual reality game has helped to convey important recycling messages to young people, including at beach volleyball and MotoGP events.
At the 2019 Red Bull Moto Grand Prix event in Milan, Italy, watched by 158,300 spectators, around 15,000 people visited the ECC exhibition, with 30,000 cans recycled over the three days.
ECC was also present at five major music festivals in the region of Galicia in Spain during 2019, working with the beer company Estrella Galicia, which sponsored each event, to promote recycling to 200,000 festival goers.

MetalMatters is the largest industry-funded recycling campaign in the U.K., and helps local authorities educate residents about the value and benefits of metal packaging recycling, motivating them to get involved and recycle more at home. While 97% of municipalities provide curbside metal collection, only about 40% of the available metal was captured. Ball and its partners initiated a project to better understand why participation lagged. The findings were surprising—people wanted reassurance that their recycling efforts really made a difference. To alleviate those engagement barriers, Ball and its partners crafted an innovative communication campaign. To learn more about MetalMatters, view this video.
Ball established two foundations focused on environmental education and both celebrated their jubilees in 2015. The RECAL Foundation in Poland celebrated its 20th and the recan fund in Serbia its 10th anniversary. At festive conferences attended by Ball's customers, suppliers, government representatives and other stakeholders, attendees looked back at past successes and plans for the future to further increase recycling rates of metal packaging in these countries. Both organizations expanded their outreach in 2015. RECAL held more than 1,000 recycling workshops for children and youth, among various other programs, with 38,000 participants. The recan fund also continued its consumer-oriented campaigns, including the Recycling Theatre, Can-by-Can and its support of the Belgrade Beer Festival. In 10 years, recan collected 3.5 million cans, reached 2.5 million people and educated 20,000 children and youths about the environmental benefits of can recycling.
Asia
VIETNAM CIRCULARITY CAMPAIGN
In Vietnam, our 'Pass On the Longacy' circularity campaign, in collaboration with the Vietnam Ministry of Natural Resources and Environment, is helping raise awareness of aluminum recycling and is showing consumers how choosing cans in the first place can help protect the environment. Using a series of high-profile celebrity ambassadors, the campaign created 300 million engagements with consumers over two months during 2021.
ENGAGING INDIA
In 2019, we arranged promotional events in India, aimed at retailers and consumers in the states of Karnataka and Maharashtra, supported by communications on Facebook and Instagram, and established an outreach campaign to disseminate messages about aluminum can recycling to more than 100 media outlets across major cities in India.
SUPPORTING THE INFORMAL SECTOR IN MYANMAR
Self-employed collectors in Myanmar travel from house to house, buying used aluminum cans. These are sold on until they reach one of the country's five main aggregators, who melt and recycle them.
Until recently, it was unclear just how efficient informal collection is in Myanmar – or what support informal collectors need. To gain more insight, we conducted a research project and found that, in 2019, the weight of used aluminum beverage cans collected for recycling was 13,100 metric tons in Myanmar, representing a recycling rate of 96%.
Based on these findings, we are now supporting this success story in two ways: by working with suppliers to make it easier and cheaper for collectors to get their cans to aggregators, and by providing financial support for two local non-governmental organizations, Thant Myanmar and Clean Yangon, to run education campaigns that promote can recycling in schools and on radio and television.