Cradle to Cradle
We work proactively with our suppliers to develop coatings that are effective and meet_Cradle-to-Cradle-Bold.jpg expectations for transparency and safety.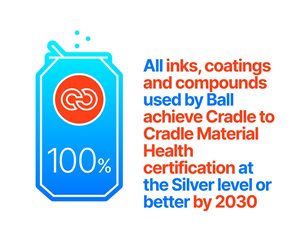 These coatings have for many years included trace amounts of bisphenol A (BPA). Acting in response to stakeholder feedback, we have developed with our suppliers a new generation of coatings that contain no intentionally added BPA. In partnership with our customers we have already converted a significant portion of our business to these new coatings and we expect that this transition will speed up as more and more customers select this option.
As part of our broader vision to create more transparency and confidence in the aluminum beverage can, we have gone further and are seeking Cradle to Cradle™ material health certification for coatings we use, as well as other materials such as sealants and varnishes. Cradle to Cradle™ material health certification requires product ingredients to be inventoried throughout the supply chain and evaluated for their impact on human and environmental health.
Once assessed by a third party, a product can be assigned a Material Health Certificate at an achievement level of basic, bronze, silver, gold or platinum, upon meeting certain requirements. To date, more than one-third of our European coatings, sealants, and varnishes have received a material health certification. These certificates provide a foundation for confidence in formulations and suggest roadmaps for improvement so that we can continue to offer our customers a variety of coating solutions.