Around the globe, more than 10,000 companies supply goods and services to Ball Corporation. Roughly 90% of our supply chain partners worldwide support our packaging businesses. The remaining suppliers and subcontractors serve our aerospace business. The top 100 suppliers represent the majority of money we spend, primarily in two categories: aluminum and coatings. The supply chains for these categories are very complex, global and diverse.
90% of our global sourcing volume comes from countries within the Organisation for Economic Cooperation and Development (OECD), an international organization promoting policies that improve the economic and social well-being of people around the world. Global supply chains continue to grow and expand, so we will likely purchase more goods from countries outside of the OECD in the future. While we will strive to require suppliers from these countries to comply with our standards, ensuring their compliance might pose additional challenges.

STRATEGIC AND RESPONSIBLE SOURCING
We utilize strategic, rather than tactical, sourcing and have developed stable and proven relationships with the majority of our suppliers over the past decades. Crucial to building sustainable supply chains, these long-lasting partnerships enable us to discuss our sustainability-related expectations with suppliers and to collaborate successfully on new technologies, product innovations and recycling programs.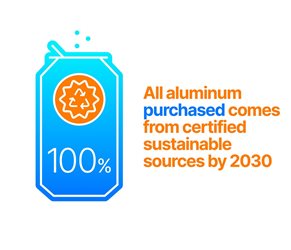 Most metal and some coating suppliers are significantly larger than Ball, and their business activities can result in major environmental and social impacts. Mining, for example, is associated with safety, biodiversity and human rights issues. Metal smelting, casting and rolling requires vast amounts of energy, which releases significant greenhouse gas emissions.
Based on the results of intensive research, including life cycle assessments, that Ball conducted with industry partners in the U.S. and Europe, we know that most of metal packaging's environmental impacts occur during metal production. Also, the biggest risks and opportunities with respect to social issues such as employment practices, conflict minerals and safety occur in the upstream stages of our supply chain.
In order to be part of a transparent value chain to grow our business and manage our risks, Ball has set the goal to purchase 100% of aluminum from certified sustainable sources by 2030.

ASI CERTIFICATION
Ball became a member of the Aluminum Stewardship Initiative (ASI) in 2012 and, in conjunction with NGOs and industry partners, crafted the ASI standards, which were launched in late 2017. In early 2020 all 23 of our beverage can plants in the Europe, Middle East and Africa (EMEA) region were certified to the ASI standards, making us the first beverage can manufacturer to achieve this distinction. Now, we are working towards ASI certification for all of our packaging businesses by the end of 2022.
We became the first business to receive ASI certification in 18 countries in parallel, and in some of those countries, such as Egypt, Finland, Poland, Saudi Arabia, Serbia and Turkey, the first company of any kind to be ASI certified.
We achieved both ASI's Performance and Chain of Custody standard certifications. The Performance standard is a measure of how much effort a company is making to assess, manage and disclose its ESG impacts – including on issues such as life-cycle thinking, recycling, greenhouse gas emissions, water and waste management, biodiversity, business integrity and the human rights of both workers and local communities. The Chain of Custody standard sets out requirements for the creation of a chain of custody throughout the entire value chain, which in our case covers all areas from mining and re-melting to casting, rolling, can manufacturing and filling.
We are working to encourage all our aluminum suppliers to have their supplying rolling mills ASI certified, as well as all upstream processes from mining to casting and remelting. Once that has been accomplished, and once some of our customers have also completed a simplified certification, ASI-certified cans will hit the shelves.

In line with our global sourcing strategy, our supply chain sustainability efforts help us to:
Utilize lean supply chains that support our Drive for 10 and sustainability strategies
Create shared value and reduce risk for our business and relevant stakeholders, including customers, suppliers and shareholders
Build sourcing solutions in line with stakeholder expectations
Enhance our products' sustainability profile
ASI CERTIFICATION FOR BALL'S 23 EMEA PLANTS
Ball Corporation is the first can maker to achieve ASI sustainability certification. ASI's Chain of Custody and Performance Standards have been met on all of the 23 aluminium beverage can plants in the EMEA region.
SUPPLIER COLLABORATION
Exchanging information and ideas on sustainability issues with our suppliers is critical to improve the performance of our products. To lightweight our metal containers, for example, we must collaborate with our metal suppliers to develop a material that allows us to minimize the weight of the containers while maintaining their integrity. This exchange of ideas creates opportunities for Ball and our supply chain stakeholders to invest in research and development of lighter, yet structurally sound, containers and to reduce the environmental footprint of our products.
Because we can achieve only so much as one company, we align our efforts with business partners inside and outside of the packaging industry and with certain trade associations, including those for aluminum and steel. By encouraging the exchange of ideas and capabilities, we will be able to deliver more sustainable products to our customers and consumers. We also engage in various cross-industry collaboration platforms (see "Supply Chain in Action" below) to develop and implement common sustainability standards, and to combine different stakeholders' resources and expertise to achieve common goals like increasing metal packaging recycling rates.
Recycling is another important area where we collaborate with our supply chain.

SUPPLIER DIVERSITY
In 2020, Ball's North American packaging businesses spent $106.7 million with minority- and women-owned businesses (MWBE), an increase over the previous year. The majority of our MWBE suppliers are information technology, logistics, industrial, facility service or maintenance and repair companies.
Nevertheless, we are working toward further increasing our MWBE spend in the future.
Responsible Sourcing Framework
In 2013, we introduced our Responsible Sourcing Framework, which includes a four-step approach that combines individual tools developed over the years.
CATEGORY SUSTAINABILITY PROFILES
The Category Sustainability Profiles primarily serve as a risk filter and describe potential environmental, social and governance (ESG) related risks for aluminum and coatings. We generate the profiles based on our extensive experience with life cycle assessments, industry standards (such as ASI), and media and stakeholder screening. They list high-risk countries because certain ESG risks, like human rights abuses or climate change impacts, are more prevalent in certain regions of the world.
Onboarding Requirements
With our Onboarding Requirements, we communicate and align the way our suppliers consider ESG aspects, and aim to receive written confirmation that responsible business practices are maintained throughout our supply chain. This way, we also ensure that our suppliers abide by all applicable laws and regulations.
For example, we require our suppliers to comply with Ball's Supplier Guiding Principles. The principles were developed with input from key customers, suppliers and socially responsible investment analysts, and require that our suppliers certify and demonstrate compliance with them. They cover employment practices, human rights, environment, health and safety, antitrust, bribery and corruption. During the reporting period, Ball provided this document to suppliers and incorporated the principles as part of all new contractual relationships.
New contracts also include clauses on human trafficking. Our form supplier agreements require vendors to provide conflict minerals certifications. Ball's Conflict Minerals Policy includes information on how we support laws related to ending the violence and human rights violations in the mining of certain minerals in the Democratic Republic of the Congo and surrounding countries. Our Conflict Minerals Report for the year ended December 31, 2020, details the due diligence we have performed as required in Section 1502 of the Dodd-Frank Wall Street Reform and Consumer Protection Act.
Supplier Sustainability Profiles
Supplier Sustainability Profiles are based on media screening, direct dialogue with suppliers and a sustainability self-assessment questionnaire, which we rolled out globally during the reporting period. The 18 questions, covering recycled content, greenhouse gas emissions, greenhouse gas targets, water usage and ASI. In 2020, we achieved a 100% response rate from aluminum suppliers.
CONTINUOUS IMPROVEMENT
If a supplier scores below expectations, we jointly develop a Continuous Improvement plan. By developing and approving cooperative programs and timetables, both partners can be successful for the long term. Ball may terminate business relations if a supplier violates a fundamental aspect of our requirements and is unwilling to change.
Human Trafficking
Slavery and Human Trafficking Statement
Download Ball's Slavery and Human Trafficking Statement.