Ball Partners are Kicking Off a Sustainable Summer with the Aluminum Cup
June marks the kick-off of coveted summer traditions – from barbecues and picnics to concerts and festivals. The return of these events, often enjoyed outdoors in the sunny weather, also comes with an abundance of packaging waste – much of which consists of plastic cups that are down-cycled or end up in landfills. As we spend more time outdoors, it's essential that we all do what we can to reduce this waste and protect the planet.
At Ball, we know how important it is to do our part by providing consumers with sustainable options to enjoy their favorite drinks – a move that is good for the planet, and for business. In fact, a survey from McKinsey shows that 66% of all respondents and 75% of millennial respondents said they consider sustainability when making a purchase. That's why we're always thinking of new ways to bring the Ball Aluminum Cup®, an infinitely recyclable alternative to single-use plastic that is now made up of 90% recycled aluminum, to consumers around the globe through partnerships with venues, bands, organizations and others that share our commitment to doing right by the planet.
Here are just a few examples of how the Ball Aluminum Cup is helping our partners demonstrate their commitment to keeping our planet healthy, reach their own sustainability goals, and meet growing consumer demand for environmentally friendly products.

From Concerts…
As summer concerts rebound, Ball has partnered with Coldplay to advance its commitment to making the Music Of The Spheres World Tour as environmentally beneficial as possible. Throughout the tour, we are providing the infinitely recyclable Ball Aluminum Cup to all US tour stops and select venues internationally to help reduce waste and strengthen aluminum refill and recycling.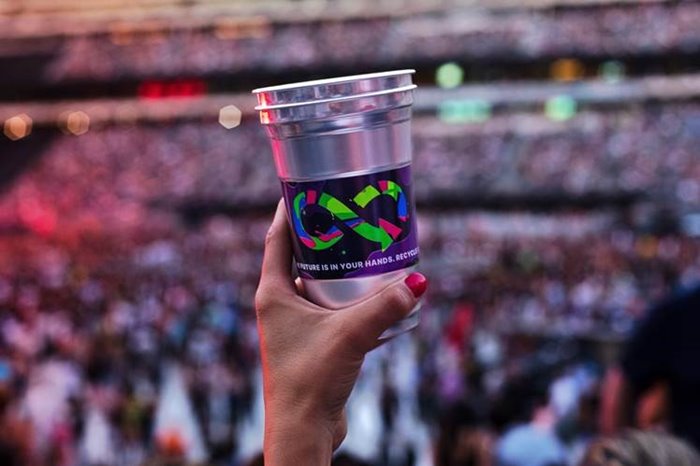 Since the tour hit the US in May, concertgoers have been enjoying beverages out of the Ball Aluminum Cup, engaging with a colorful mural made from recycled aluminum cups onsite, and participating in a custom immersive Instagram AR experience with followers. Additionally, fans are learning about sustainable aluminum beverage packaging and recycling through an educational video played in the venues before each show.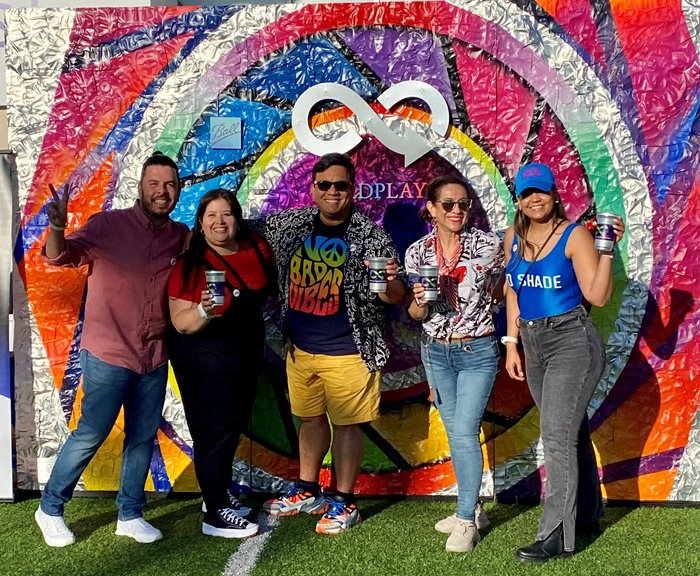 To Big Events…
Ball recently expanded its partnership with Sodexo Live! to advance sustainability efforts at major sports and entertainment events, including the Formula 1 Crypto.com Miami Grand Prix at Hard Rock Stadium. The company also partnered with Reverb to help musicians, festivals and venues make their concert events more sustainable. Major on-site gatherings like this often require the convenience of disposable cups. When this is the case, the Ball Aluminum Cup is the most sustainable option because it can be easily recycled and turned back into a new product in just 60 days.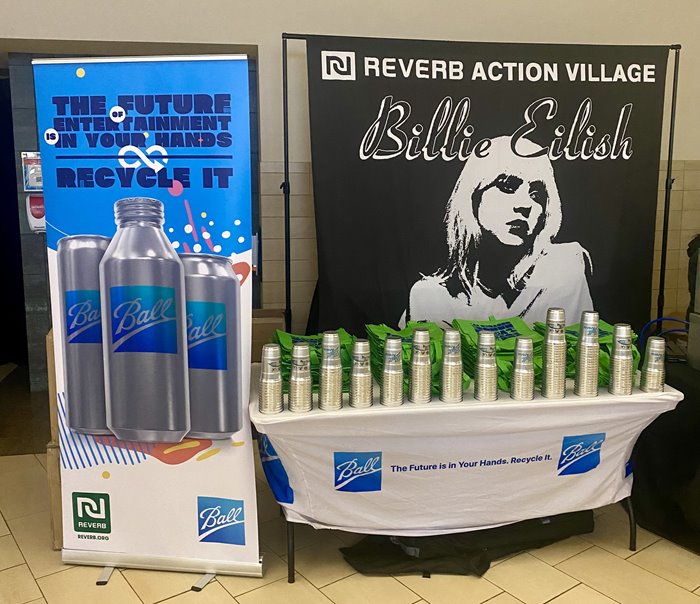 And Beyond.
Ball and its partners are bringing the Ball Aluminum Cup to consumers around the world – helping them to reduce plastic waste and do their part for the environment.
We are so proud of each of our partnerships and the ways they educate consumers on aluminum recycling, inspire communities to make sustainability a cornerstone of their everyday lifestyles, and help our partners reach their sustainability goals. As one example, Ball Arena, in our hometown of Denver, has eliminated nearly 700,000 single-use plastic cups and bottles and is on pace to remove more than 1 million of them in 2022. We're excited to continue to see this impact and tell these stories at upcoming events like the Stanley Cup finals and other moments throughout the summer at partner stadiums.
For now, we encourage you to kick off a fantastic, sustainable summer by enjoying your favorite beverage out of a Ball Aluminum Cup. Cheers!