From the big picture to all the tiny moving parts, we treat every facet of your beverage packaging with the Ball's signature attention to detail. Full lifecycle insight and planning are a must when you manufacture more than 50 billion recyclable beverage cans a year.
Ball's Real Circularity Promise
Explore the lifecycle of aluminum
Whether the product is beer, water, soda or something else to sip, Ball cans set a high bar for visually appealing, crowd-pleasing packaging. Our cans are the perfect foundation for your brand. Available in a variety of styles and sizes, with innovative ends and tabs to engage your customers at retail and even through online interactions, to customize your brand experience.
Don't follow the status quo, set the standard.
The Standard can is available in four classic sizes ranging from 12 oz. to 19.2 oz. It delivers the popular and familiar hand feel experience for consumers and is fully customizable — we offer the widest selection of enhancements, ends, filling options, and special effects in the industry
Condensed, still classic.
Our Sleek can features refined, elegant design that makes your beverage stand out. Its shorter, leaner physique allows for smaller modern portion sizes with a clean, premium look on the shelf. Available in 7.5-, 8- and 12-oz. sizes, the Sleek can is compatible with most filling options, and a wide variety of special effects.
A strong statement.
Slim cans are our most slender cans yet, available in 5.5 oz. and 8.4 oz options that highlights the value of your petite portion. They're perfect for wines and hard beverages where a little goes a long way, and the graceful design is the perfect platform for a chic brand statement. Most special effects and filling options are available.
A can big enough to share.
With generous portion sizing and a broad canvas for branding, the King can goes big with everything it does. The 24-, 25.4- and 32-oz. options are ideal choices for a tall pour of craft beer or an energy drink with an extra boost. Featuring the most special effect options available from Ball, this can amplifies to the appeal of whatever you put inside.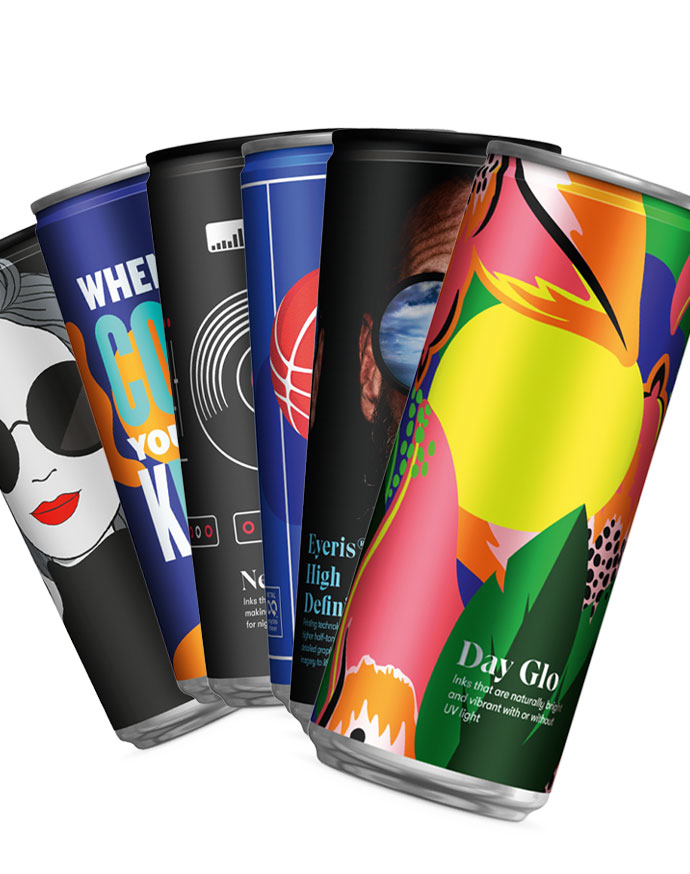 Stand out on the shelf.
Add a stylish and visually compelling pop to your aluminum packaging with any combination of our specialty inks, overvarnishes for a uniquely tactile finish, and special effects. Make your statement with temperature-sensitive color-changing text and Day-Glo graphics, crystal-clear photographic renderings, or artwork you can touch. Ball's printing processes deliver memorable cans and bottles that are sure to stand out on the shelf, in the cooler, or in a crowd.
Discover Ball special effects